You are here:
Home

Spiritual Development

Guides, Gurus and God-Beings


Welcome!
Click on me and I will take you to one of the Life Guides.
May they be greatly beneficial for you.
Random Guide/Guru/GodBeing
Abhinavagupta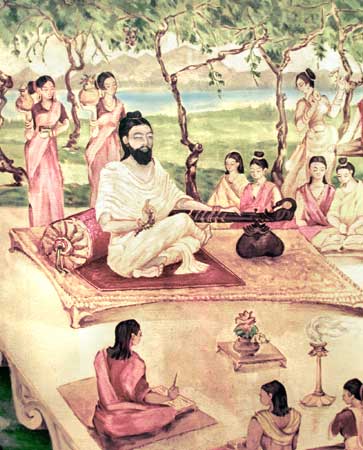 India
. Born in the Valley of Kashmir. (approx. 950-1020 AD). Mystic philosopher.
"Oneness is like the clear blue sky-
everything arises, unfolds, and subsides
within its all-compassionate love....
Everything is an aspect of Oneness.
And our quest to know this comes from Oneness."
"If the process of manifestation, which involves the full-fledged appearance of the visible world, never truly involves a departure from the unmanifest, undifferentiated reality of Shiva, then it follows that the tantric path of return consists of the recovery of this vision of the undifferentiated unity of all things.
This vision, which at first appears to annihilate all things into the dark abyss of Shiva, later grows into the unmilana samadhi, which reveals the pulsating essence of Shiva actively structuring and maintaining all the apparently finite and even inert forms of visible reality. The yogin must come to a vision of the inseparability of all things from Shiva."
"Concentration and calming the mind. If this meditation is difficult, take a simple object like a stone or a piece of wood, place it in front of you, gently focus on the object without blinking, allow nothing else to take hold of your mind."
en.wikipedia.org/wiki/Abhinavagupta
You are here:
Home

Spiritual Development

Guides, Gurus and God-Beings