You are here:
Home

Esoteric Wisdom


The Atlantean Diagram Revisited
Around July 2004 I received an email regarding my diagram enquiring about it's origin as they had only seen it once before. I replied that I conceived it myself and had not seen it elsewhere. Also I was intrigued and asked where they had seen it. It seems they had seen it in a vision: a retro-cognition of the times of Atlantis.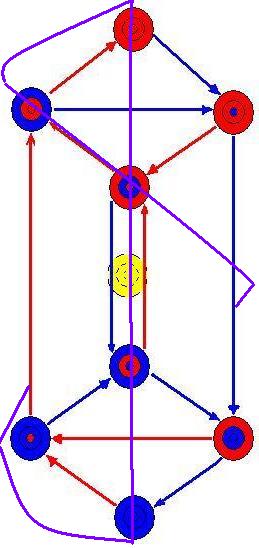 "they guys from Message of Angels suggested ....based on their experience ... The Diagram generates energy. Harnessed from the sun. Like...the batteries they found that were thousands of years old? Heaps of clay jars with distilled water? Well this diagram is like that. It shows you what angle the sunlight needs to hit. The purple line is a wire (believed to be copper) that loops through the two end points. We are confident that it works. Problems? Something that will drill into crystal (laser) one end to the other without leaving.. residue and particles and the length of copper must be one piece of consistent (no breaks or bulbs) width."
"Our strengths are the Spiritual abilities of PRECOGNITION and RETRO COGNITION Knowing what is to come and what was. Timeline. Clairvoyant, Medium, and mostly visions and angelic encounters."

(site down?)
A Further Update
Aparently the form of the diagram is know to mathematics as a De Bruijn graph:
theory.csc.uvic.ca/~cos/inf/neck/NecklaceInfo...
I discovered this on the 30th of April 2007 and will look into it more deeply as time permits.
You are here:
Home

Esoteric Wisdom