You are here:
Home

Mysteries of the World


The Devil's Tower Mystery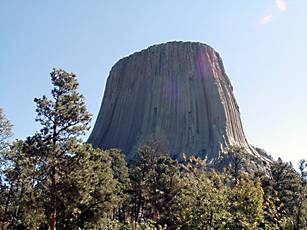 Devils Tower is a monolith located near Hulett and Sundance in eastern Wyoming. It rises dramatically 1267 feet (386 m) above the surrounding terrain.
In 1977 it was used as the location for the finale of Steven Speilberg's film
Close Encounters of the Third Kind
.
Black Hills area in which the tower is located, has some of the largest caves in the world underneath it, including Wind Cave and Jewel Cave
Aparently 3 American Indians found a tunnel:
"They found the passage strewn with bones. Perhaps human bones. At the end, the tunnel opened up into a cave with an underground lake some 25 yards long and more than 15 yards wide. Around the lake were large quantities of gold."
Check out this article for more details:
www.unmuseum.org/dtgold
You are here:
Home

Mysteries of the World