You are here:
Home

Spiritual Development

Guides, Gurus and God-Beings


Welcome!
Click on me and I will take you to one of the Life Guides.
May they be greatly beneficial for you.
Random Guide/Guru/GodBeing
Bernie Prior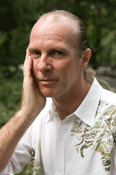 Australia
. "Bernie Prior speaks from Realised consciousness on the truth of life, love and the real nature of man and woman."
"Love is formless. It does not have a shape or size, or even a feeling. It has direct communion with that that you already are".
"A power that beckons you to be new, that calls you to be new,
that calls you to dare to live, to dare to be,
to dare to live on the edge of life, in the unknown,
because really that's what you are,
you are totally unknowable."
bernieprior.org
You are here:
Home

Spiritual Development

Guides, Gurus and God-Beings