You are here:
Home

Spiritual Development

Guides, Gurus and God-Beings


Welcome!
Click on me and I will take you to one of the Life Guides.
May they be greatly beneficial for you.
Random Guide/Guru/GodBeing
Bodhidharma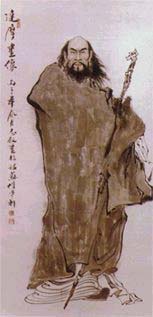 India
. The Buddhist monk traditionally credited as the transmitter of Chán to China.
"As long as you look for a Buddha somewhere else, you'll never see that your own mind is the Buddha."
"Buddha means awareness, the awareness of body and mind that prevents evil from arising in either."
"Now, though I do no wrong, I'm punished by my past."
"Those who remain unmoved by the wind of joy silently follow the Path."
"Worship means reverence and humility it means revering your real self and humbling delusions."
"Your nature is the Buddha."
"But deluded people don't realize that their own mind is the Buddha. They keep searching outside."
"Words are illusions."
en.wikipedia.org/wiki/Bodhidharma
You are here:
Home

Spiritual Development

Guides, Gurus and God-Beings