You are here:
Home

Spiritual Development

Guides, Gurus and God-Beings


Welcome!
Click on me and I will take you to one of the Life Guides.
May they be greatly beneficial for you.
Random Guide/Guru/GodBeing
Dahlia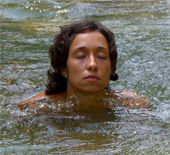 Denmark
. Aisha.
"Clear to me is it, that I cannot step forward as a guru or teacher, as the truth I am, bears no hierarchies. Every One is equal – one and the same. I cannot step forward supporting the illusion, that any specific human action is necessary in the process of letting go and heart opening either. It is not the doing, it is the not doing, that is the real teacher."
"I feel no need to express love/the truth through a thousand words… As hearts have no ears… Bodies learn from bodies. My body is a healer because it carries the key to the door of the heart – the key to your Self and mine."
theself.eu (site down?)
You are here:
Home

Spiritual Development

Guides, Gurus and God-Beings