You are here:
Home

Spiritual Development

Guides, Gurus and God-Beings


Welcome!
Click on me and I will take you to one of the Life Guides.
May they be greatly beneficial for you.
Random Guide/Guru/GodBeing
Dalai Lama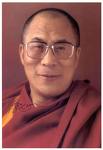 Born in 1935 AD. His Holiness the 14th Dalai Lama, Tenzin Gyatso, is both the head of state and the spiritual leader of Tibet.
"All major religious traditions carry basically the same message, that is love, compassion and forgiveness the important thing is they should be part of our daily lives."
"Be kind whenever possible. It is always possible."
"My religion is very simple. My religion is kindness."
"If you can, help others; if you cannot do that, at least do not harm them."
dalailama.com
You are here:
Home

Spiritual Development

Guides, Gurus and God-Beings