You are here:
Home

Spiritual Development

Guides, Gurus and God-Beings


Welcome!
Click on me and I will take you to one of the Life Guides.
May they be greatly beneficial for you.
Random Guide/Guru/GodBeing
Dr Prabha Calderon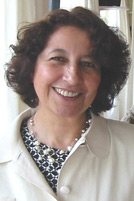 Founder of The School of Self-Enquiry. She has been practicing Self-Enquiry and Introspection for more than 25 years with different teachers and masters from all over the world.
"Awareness is the core of your Being."
"The representations that we have about "reality" were in general, adopted in childhood. They are conditioned by arbitrary interpretations made by the nervous system with the language and the meanings coming from outside."
"Without awareness we have a definition of ourselves and we assume or pretend to be that definition."
"One of the activities of seeking can be the quest for knowledge, the knowledge that could prove existence. In this case the person reads and studies a lot while keeping and observing the external world with a more or less large distance."
www.schoolofselfenquiry.com/indexgroot.htm (site down?)
You are here:
Home

Spiritual Development

Guides, Gurus and God-Beings