You are here:
Home

Spiritual Development

Guides, Gurus and God-Beings


Welcome!
Click on me and I will take you to one of the Life Guides.
May they be greatly beneficial for you.
Random Guide/Guru/GodBeing
Eckhart Tolle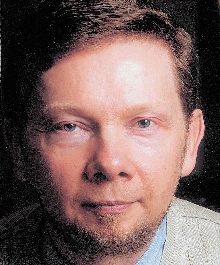 (born
Germany
1948 AD as Ulrich Tolle). Author of the Power of Now. Recommended.
"Enlightenment means choosing to dwell in the state of presence rather than in time. It means saying 'yes' to what is."
"Compassion is the awareness of a deep bond between yourself and all creatures."
"As long as you are unable to access the power of the Now, every emotional pain that you experience leaves behind a residue of pain that lives on in you."
"Reincarnation doesn't help you if in your next incarnation you still don't know who you are."
"Identification with your mind creates an opaque screen of concepts, labels, images, words, judgments, and definitions that blocks all true relationship. It comes between you and yourself, between you and your fellow man and woman, between you and nature, between you and God. It is this screen of thought that creates the illusion of separateness, the illusion that there is you and a totally separate "other." You then forget the essential fact that, underneath the level of physical appearances and separate forms, you are one with all that is."
EckhartTolle.com
en.wikipedia.org/wiki/Eckhart_Tolle
You are here:
Home

Spiritual Development

Guides, Gurus and God-Beings