You Can Get Free Gift Cards For Shopping, Searching and Discovering What's Online at Swagbucks.com
$books='cash money'; ?> $books='money making ideas'; ?>
You are here:
Index

Financial Freedom


Findmyfiver.com
How would you like other people's money work for you? This idea struck me as very clever so I am giving it a go. You register the serial number of a bank note at www.findmyfiver.com and you write the findmyfiver.com web address on the note. It costs £2.50 (or the equivalent in your currency) to register a serial number, and you will receive £2.00 for every person who registers via your number.
You then release the note back into circulation (ie spend it somewhere!). Who-ever follows the note address and registers their own serial number will in effect be giving you £2.00. Bank notes can change hands frequently in a single day so chances are your note will be picked up by quite a few people who want to register a note themselves. Each time this happens you earn money!
The website also has the enjoyable feature of allowing you to track your bank note/serial number around the country: Every one is prompted to list their approximate location-the various locations where your bank note is found are logged on your account.
"Although called FindMyFiver, the site is not restricted to UK five pound notes, in fact not only does it not need to be a UK note, it doesn't even need to be a fiver. FindMyFiver will work just as well with ten's, twenty's, or even fifty's, anything with a serial number which can be registered will do the trick, which also means notes from any country in the world will work just as well.
So you can register your US one dollar bill, a European 100 Euro note, the Botswana pula 20, even your 50 Uzbekistan som...Whatever you fancy will all make you money."
For example I chose the serial number 51234 rather than my bank notes' actual serial number. This means that I can write it clearly on every note that I come into contact with(!) along with the findmyfiver.com web address of course.

A short serial number also has the advantage of being easy to remember and easier to type in than a standard bank note serial number. This means that I can also promote it online (ie this webpage!). You can do the same.
If you fancy giving the idea a go then simply click on my "note" below. The link will open up findmyfiver.com in a new window with my serial number already typed in. You will then be given the chance to register your own serial number/note and start earning a bit of extra money to help you along in life.
Click Here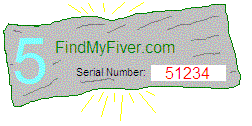 I was pleased to note that findmyfiver.com uses WorldPay Secure Payment Server.

James
You are here:
Index

Financial Freedom


UK?
Use my code to change your energy provider to Bulb using this
link
and get a £50 credit on your account, probably cheaper bills, no contract (they will buy you out of yours too), great customer service, plus they use renewable energy. I get £50 too. So this is a great way to pay me back for the articles and resources whilst actually saving money yourself.