You Can Get Free Gift Cards For Shopping, Searching and Discovering What's Online at Swagbucks.com
$books='guru enlightenment'; ?> $books='christ+mystic'; ?>
You are here:
Index

Nonduality & Spirituality

Guides, Gurus and God-Beings


Welcome!
Click on me and I will take you to one of the Life Guides.
May they be greatly beneficial for you.
Random Guide/Guru/GodBeing
Francis of Assisi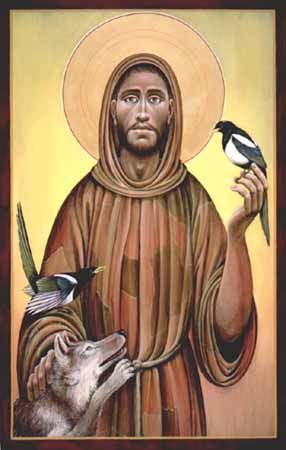 France
. (1182-1226 AD). Christian mystic.
"My sister birds, you owe much to God, and you must always and in everyplace give praise to Him; for He has given you freedom to wing through the sky and He has clothed you…you neither sow nor reap, and God feeds you and gives you rivers and fountains for your thirst, and mountains and valleys for shelter, and tall trees for your nests. And although you neither know how to spin or weave, God dresses you and your children, for the Creator loves you greatly and He blesses you abundantly. Therefore… always seek to praise God."
"Above all the grace and the gifts that Christ gives to his beloved is that of overcoming self."
"I have been all things unholy. If God can work through me, he can work through anyone."
"If you have men who will exclude any of God's creatures from the shelter of compassion and pity, you will have men who will deal likewise with their fellow men."
"It is not fitting, when one is in God's service, to have a gloomy face or a chilling look."
"Preach the Gospel at all times and when necessary use words."
"While you are proclaiming peace with your lips, be careful to have it even more fully in your heart."



en.wikipedia.org/wiki/Francis_of_Assisi
You are here:
Index

Nonduality & Spirituality

Guides, Gurus and God-Beings


UK?
Use my code to change your energy provider to Bulb using this
link
and get a £50 credit on your account, probably cheaper bills, no contract (they will buy you out of yours too), great customer service, plus they use renewable energy. I get £50 too. So this is a great way to pay me back for the articles and resources whilst actually saving money yourself.