You are here:
Home

Spiritual Development

Guides, Gurus and God-Beings


Welcome!
Click on me and I will take you to one of the Life Guides.
May they be greatly beneficial for you.
Random Guide/Guru/GodBeing
George Gurdjieff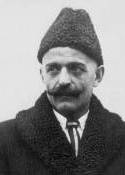 George Ivanovich Gurdjieff. (1873-1949 AD). an Armenian-Greek mystic. Fourth Way.
"Self-observation brings man to the realization of the necessity of self-change. And in observing himself a man notices that self-observation itself brings about certain changes in his inner processes. He begins to understand that self-observation is an instrument of self-change, a means of awakening."
"It is the greatest mistake to think that man is always one and the same. A man is never the same for long. He is continually changing. He seldom remains the same even for half an hour."
"A "sin" is something which is not necessary."
"Every ceremony or rite has a value if it is performed without alteration. A ceremony is a book in which a great deal is written. Anyone who understands can read it. One rite often contains more than a hundred books."
"Without self knowledge, without understanding the working and functions of his machine, man cannot be free, he cannot govern himself and he will always remain a slave."
gurdjieff.org
en.wikipedia.org/wiki/G._I._Gurdjieff
You are here:
Home

Spiritual Development

Guides, Gurus and God-Beings