You are here:
Home

Spiritual Development

Guides, Gurus and God-Beings


Welcome!
Click on me and I will take you to one of the Life Guides.
May they be greatly beneficial for you.
Random Guide/Guru/GodBeing
Goldie: The Dragon Shaman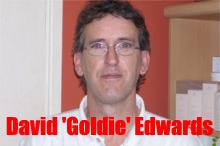 UK
. David 'Goldie' Edwards is a practising Shamanic Healer and works exclusively from his home on the Dorset / Somerset border in the UK. "I was called to Shamanism after becoming very sick with cancer; I guess you could say I had a 'bright light' moment". David is also a Reiki Master / Teacher and teaches his own brand of Reiki that incorporates shamanic influences.
"I do most of my work on an energetic level and I am therefore interested in frequency and amplitude .. both of which when used correctly would assume harmony .. a kind of sound healing if you like .."
"Balancing the ego within the whole is the art of life itself"
"ego to me is simply energy in motion ... the action to a thought and always includes matter in some form or other ..
thought is the original energy ... the 'I' "
TheDragonShaman.com
dragonshaman.multiply.com Blog
You are here:
Home

Spiritual Development

Guides, Gurus and God-Beings