You are here:
Home

Spiritual Development

Guides, Gurus and God-Beings



Welcome!
Click on me and I will take you to one of the Life Guides.
May they be greatly beneficial for you.
Random Guide/Guru/GodBeing
James Braha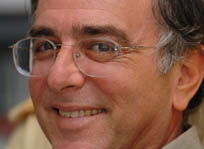 Influenced by
Sailor Bob
.
"The literal definition of Advaita (pronounced "ad-vie-ta") is "not two," a technically preferable way of describing oneness because the term "oneness" implies the possibility of more than one. Nonetheless, the word "oneness" is commonly used to refer to the underlying or essential indivisibility, sameness, or unity of all manifestation that Advaita reveals. Scientifically, this oneness is seen in quantum mechanical physics, which shows that all matter can be broken down into smaller and smaller subatomic particles, which eventually can be seen to be composed of nothing more than light, or emptiness, or space. Truly, everything in manifestation is made up of one, and only one, essence."
JamesBraha.com
You are here:
Home

Spiritual Development

Guides, Gurus and God-Beings