You are here:
Home

Spiritual Development

Guides, Gurus and God-Beings


Welcome!
Click on me and I will take you to one of the Life Guides.
May they be greatly beneficial for you.
Random Guide/Guru/GodBeing
John Wheeler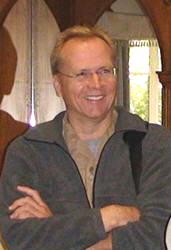 "John met "Sailor" Bob Adamson (friend of Nisargadatta Maharaj) on a trip to Australia in 2003. Bob pointed out our nature of non-conceptual awareness and the absence of the limited self we imagine ourselves to be. With this heart-to-heart pointing, the search ended then and there. John enjoys sharing this same message with those interested in self-knowledge and the ending of seeking, suffering and doubt."
"You never leave your true nature. Thoughts coming and going do not touch being-awareness. If you are not interested in thoughts, how can they bother you? Consider why you are so interested in thought anyway. What makes it so captivating and fascinating?"
"Give up the concepts of understanding and attaining. Just see what is present now."
thenaturalstate.org
You are here:
Home

Spiritual Development

Guides, Gurus and God-Beings