You are here:
Home

Spiritual Development

Guides, Gurus and God-Beings


Welcome!
Click on me and I will take you to one of the Life Guides.
May they be greatly beneficial for you.
Random Guide/Guru/GodBeing
Kali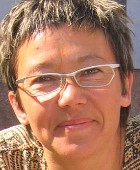 Franciska von Koch. Sweden. Kali is an educater in Voice Dialogue Transformational Pshychology and has worked as a counselor since 1990.
"When you go to sleep or wake up
Become aware of the body laying there. You can go through the whole body bit by bit, starting with the feet and moving the attention up and trhrough all of the parts. Dont try to change anything, just be aware of what is. If the mind wonders let it return again to the bodyawareness. This does not need to take more then a few minutes. End with feeling the whole body, just being, breathing."
dharmanow.com/index.asp?i=95
You are here:
Home

Spiritual Development

Guides, Gurus and God-Beings