You are here:
Home

Spiritual Development

Guides, Gurus and God-Beings


Welcome!
Click on me and I will take you to one of the Life Guides.
May they be greatly beneficial for you.
Random Guide/Guru/GodBeing
Saraha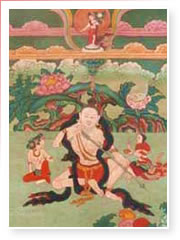 India
. Saraha heads the Mahamudra lineage.
"Like pigs we wallow in this sensual mire
But what can stain our pearly mind?
Nothing can ever contaminate it,
And by nothing can we ever be bound."
"Teaching that virtue is irrelevant to intrinsic awareness,
He mistakes the lock for the key;
Ignorant of the true nature of the gem
The fool calls green glass emerald."
"Neither vibration (nada) nor point (bindu),
neither sun nor moon — the sovereign Mind
is in and of itself ever liberated.
Abandon not the straight route,
to meander down the crooked way.
Enlightenment is near,
so don't dally in worldly life.
The bangle on your wrist, do not attempt
to see it looking in a mirror:
look to yourself - see Innate Mind direct!
Those going on either bank
are fools pursuing the way of death.
Of the channels cut on left and right,
Saraha says: O! mistake these not
for the route that is straight!"
Saraha.rediffblogs.com
dharmafellowship.org/biographies/historicalsaints/saraha
You are here:
Home

Spiritual Development

Guides, Gurus and God-Beings