You are here:
Home

Spiritual Development

Guides, Gurus and God-Beings


Welcome!
Click on me and I will take you to one of the Life Guides.
May they be greatly beneficial for you.
Random Guide/Guru/GodBeing
Sri Aurobindo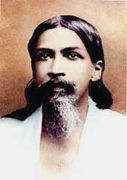 India
. (1872-1950 AD). Spiritual Philosopher. Integral Yoga.
"The one aim of [my] yoga is an inner self-development by which each one who follows it can in time discover the One Self in all and evolve a higher consciousness than the mental, a spiritual and supramental consciousness which will transform and divinize human nature"
"We have to create strength where it did not exist before; we have to change our natures, and become new men with new hearts, to be born again ... We need a nucleus of men in whom the Shakti is developed to its uttermost extent, in whom it fills every corner of the personality and overflows to fertilise the earth. These, having the fire of Bhawani in their hearts and brains, will go forth and carry the flame to every nook and cranny of our land."
"The fundamental idea of all Indian religion is one common to the highest human thinking everywhere. The supreme truth of all that is is a Being or an existence beyond the mental and physical appearances we contact here. Beyond mind, life and body there is a Spirit and Self containing all that is finite and infinite, surpassing all that is relative, a supreme Absolute, originating and supporting all that is transient, a one Eternal. A one transcendent, universal, original and sempiternal Divinity or divine Essence, Consciousness, Force and Bliss is the fount and continent and inhabitant of things."
sriaurobindosociety.org.in
en.wikipedia.org/wiki/Sri_Aurobindo
You are here:
Home

Spiritual Development

Guides, Gurus and God-Beings