You are here:
Home

Spiritual Development

Guides, Gurus and God-Beings


Welcome!
Click on me and I will take you to one of the Life Guides.
May they be greatly beneficial for you.
Random Guide/Guru/GodBeing
Sri Mugavai Kanna Muruganar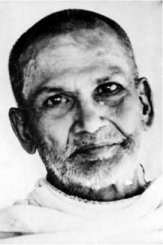 India
. Accomplished Tamil poet. (1890-1973 AD). Devotee of
Sri Ramana
.
"The only true and full awareness is awareness of awareness. Till awareness is awareness of itself, it knows no peace at all."
"Is it not because you are yourself awareness, that you now perceive this universe? If you observe awareness steadily, this awareness itself as Guru will reveal the Truth."
"Long live the mantra 'Namo Ramanaya',
for the benefit [of all living beings].
Long live the fragrant lotus feet of the True One,
who releases us from [our ignorance]!"
"He it was who
as I suffered in the whirl [of birth and death]
forgetting the inescapable reality of the beginningless link
between the head [the jiva] and the foot [the Self],
inspired in me, wretched cur that I was,
the madness of devotion.
He removed the defect of the wandering ego-mind,
shaped me into a comely form
through the purification [of my consciousness],
kindled the flame [of jnana] for my salvation's sake,
made me perform the fire-sacrifice of jnana
through the observance of devout austerities,
bathed me in his blissful gaze [at the sacrifice's end]
and became my Lord and Master."
davidgodman.org/rteach/gvk_intro
poetseers.org/spiritual_and_devotional_poets/ind/ramana_ma/mur
You are here:
Home

Spiritual Development

Guides, Gurus and God-Beings