You are here:
Home

Spiritual Development

Guides, Gurus and God-Beings


Welcome!
Click on me and I will take you to one of the Life Guides.
May they be greatly beneficial for you.
Random Guide/Guru/GodBeing
Swami Tejomayananda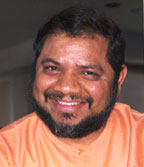 India
. "His Holiness Swami Tejomayananda, the present spiritual head of Chinmaya Mission® worldwide, is fulfilling the vision that Swami Chinmayananda charted. As he puts it, "I am not in Swamiji's shoes; I am at His feet." "
"Contentment is good, but it is not good to be content with one's spiritual practices. We are often satisfied with our spiritual progress, but our greed for worldly possessions is insatiable; this is where contentment is a vice. We should have very few physical needs and put most of our effort into spiritual matters."
"It is said, "Learn from Nature; her secret is patience." Instead of condemning yourself, patiently turn your attention toward the Lord; this is the secret of developing divine qualities."
"Yes, God is motionless, because there isn't any place where He is not. When a child is sitting in his mother's lap, he can cry for a million things, but he cannot cry for his mother to come. We are all in the lap of the infinite Truth. It is nearer than your own eyelashes. There is no distance between you and It."
chinmayamission.org/aboutus
You are here:
Home

Spiritual Development

Guides, Gurus and God-Beings