You are here:
Home

Spiritual Development

Guides, Gurus and God-Beings


Welcome!
Click on me and I will take you to one of the Life Guides.
May they be greatly beneficial for you.
Random Guide/Guru/GodBeing
Valerie Vener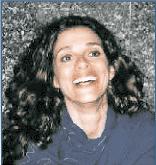 Born in 1961. "In 1981, when Valerie Vener was twenty years old, she was caught in a house fire and had a profound Near Death Experience that was a significant part of her Awakening Journey."
"I am that very One that lives my body, that lives your body, and I am absolutely energetic; I am in energy, I am as energy. And, I am absolutely delightful, delightful in my trillions and billions of modifications, and "how wondrous it is to be me!" [Laughter] Seriously, all that exists outside of me as a modification exists inside of me as a modification. Simultaneously I can be all of that and this one thing that I am."
angelfire.com/realm/bodhisattva/vener
You are here:
Home

Spiritual Development

Guides, Gurus and God-Beings