You are here:
Home

Spiritual Development

Guides, Gurus and God-Beings


Welcome!
Click on me and I will take you to one of the Life Guides.
May they be greatly beneficial for you.
Random Guide/Guru/GodBeing
Vallalar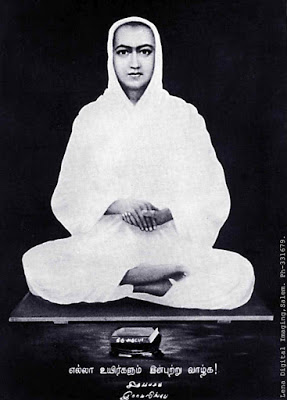 India
. Arutprakasa Vallalar Chidambaram Ramalingam. A famous Tamil Saint and also one of the greatest Tamil poets of the 19th century. He endeavored to eliminate the caste system and was compassionate towards animals, championing vegetarianism.
"karma can be eradicate through only by doing meditation. Like quenching the hunger by eating food."
"Destiny are written by their own hand."
"When I see men feeding on the coarse and vicious food of meat, it is ever-recurring grief to me."
en.wikipedia.org/wiki/Vallalar
vallalarorphanage.org.my/SaintRamalinga.pdf
Vallalar.org
You are here:
Home

Spiritual Development

Guides, Gurus and God-Beings