You are here:
Home

Spiritual Development

Guides, Gurus and God-Beings


Welcome!
Click on me and I will take you to one of the Life Guides.
May they be greatly beneficial for you.
Random Guide/Guru/GodBeing
Yudhishtara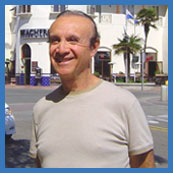 Born in Thessaloniki, Greece. "Spiritual search for the truth led me to India to meet Sri H.W.L. Poonja".
"My spiritual searching ended when I met Poonja-ji. Poonja-ji told me to stop analyzing the differences, comparing, and judging all the religions, theologies, philosophies, and cultures that I had been searching through. He told me to find the common thread that went through all of them."
"When we can accept that what we are is beyond name and form,
when we can accept that what we are is isness itself,
then we can see that no matter what is happening,
the essence of what we are cannot possibly be affected by these things of name and form.
Only the mind can be affected.
Only the body can be affected.
But our essence cannot be affected.
This understanding,
is what is known as enlightenment."
yudhishtara.com
You are here:
Home

Spiritual Development

Guides, Gurus and God-Beings