You are here:
Home

About VirtueScience


James Barton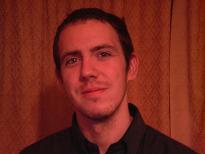 Contact James Barton
Hi, I am
James Barton
, the creator of
VirtueScience.com
and author of
"Inner Medicine"
.
I was born on
August the 17th 1976
and live in
Rugby Town
which is in Warwickshire, England.
For as long as I can remember I have been interested in looking at things deeply and I continue to study a wide variety of philosophies and ideas from all round the world. My spiritual hero is
Ramana Maharshi
and I also respect many other teachers to varying degrees. I have been a
vegetarian
since I was about 14 years old and I am quite passionate about it.
I value creativity and enjoy coming up with interesting ideas about a range of subjects; some of which can be found on this site. Here is a short
Spiritual Biography
.
Other Facts about James Barton
I worked for a local company building circuit boards etc for 10 years. I am now working in an aluminium foundry.
I had a poem published in anthology around 1995 called Star Gazing. My poem was called
Souler Systems
.
I have painted in acrylic an abstract called "
First Awakening
" based on sacred geometry principles and the esoteric anotomy of the microcosm.
My aims include the complete beneficial transformation of the world.
I am interested in
Self Defence
I am interested in geopolitics and theories about the future of humankind.
Books that I have Read
You are here:
Home

About VirtueScience